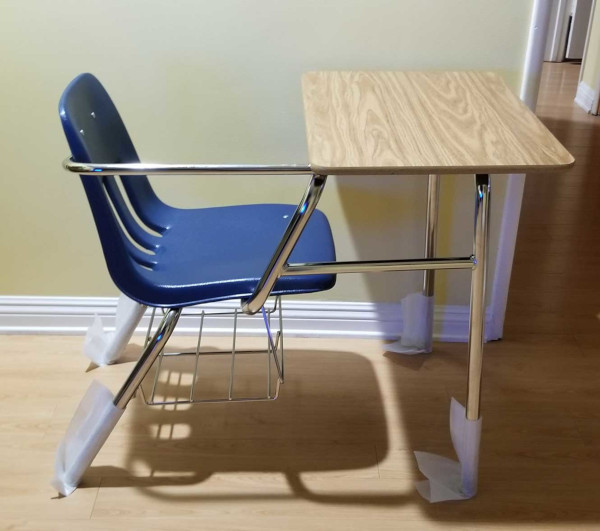 We are currently raising funds to equip our project at the Complejo Educativo El Piche and would like you to join us by sponsoring one, two or the desks that are within your reach for a donation of $120.50 per desk. Please note that your contribution is 100% tax deductible. Our organization's tax identification number is 95-4712548. Thank you for helping us to help.
EL PICHE EDUCATIONAL COMPLEX
After almost five years of planning, fundraising and overcoming many obstacles, the construction of the EL PICHE EDUCATIONAL COMPLEX in the community of El Piche, El Carmen, Department of La Union in El Salvador, finally began with the groundbreaking ceremony in October 2019. This educational complex is the first of its kind in El Salvador and will house 500 students from sixteen neighboring communities. Once completed, this educational facility will be equipped for students from Kindergarten through 12th grade, with a two-story structure that includes eighteen classrooms, a computer lab, a library, and administrative offices.
How to donate to help the Salvadoran Committee El Piche?
Participate
You can make a difference in the lives of many by joining the various projects that our committee supports. We have improved the lives of thousands of people who need us but we know there is still a need to do more. We look forward to your support for the various causes and projects of Comité Salvadoreño El Piche.
Contact us
If you have questions or need more information about our projects, you can write us an email or fill out our form from the contact section.
Join the cause
Would you like to make a difference in the lives of those who need your help? Together we can do it! For more than 20 years Comité Salvadoreño El Piche has helped our community in various projects that have marked the history of many people. When you donate to Comité Salvadoreño El Piche you are joining a cause that for years has helped and continues to help the communities that need it the most.