_
Complex Equipment
Educational
«El Piche»
_
We would like you to join us by sponsoring one, two or the desks that are within your reach for a donation of $120.50 per desk. Please note that your contribution is 100% tax deductible.
_
Educational Complex Construction
«El Piche»
_
Salvadoran Committee "El Piche", invites you to design and build together the EDUCATIONAL COMPLEX EL PICHE in the community of El Piche, El Carmen, Department of La Union in El Salvador.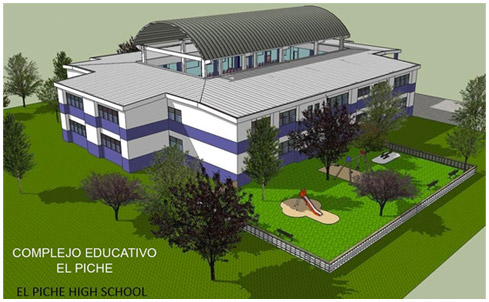 Comité Salvadoreño El Piche, established in 1995, is a provider of humanitarian assistance to El Salvador, Mexico, Guatemala, Nicaragua, Honduras and the United States. The El Piche Committee began its work in El Salvador, a country that suffered a 12-year civil war that indiscriminately claimed more than 75,000 lives between 1980 and 1992. In the following years, El Salvador faced the destruction of Hurricane Mitch in 1997, the devastation of two earthquakes in 2001, Hurricane Stan in 2005 and Hurricane Ida in 2009.
We need you!Become a Volunteer
Would you like to make a difference together with the Salvadoran Committee El Piche?
We invite you to join our team of volunteers.