When he emigrated to the United States, when he was very young, he was going with the idea of studying, getting better and working for his canton and for others in different municipalities of El Salvador. He did so, which is why he now holds the title of "liberator".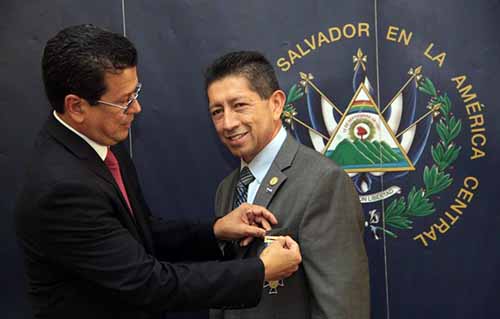 Enot Rubio wanted to leave his native land, but not to forget his roots, nor to move maliciously away from the country environment that saw him grow until he was 17 years old. He left with the idea of surpassing himself and he did so.
Now, after more than 20 years in Los Angeles, California, United States, Rubio has managed to build two community centers, three medical clinics, a recreational center, 144 permanent housing units, a nine-kilometer-long highway, three computer centers, and drinking water distribution in two communities in his beloved canton of El Piche, in the municipality of El Carmen, La Union, and in other municipalities throughout the country.
For that reason, this Monday the Government of El Salvador, through the Ministry of Foreign Affairs has wanted to recognize his work and has delivered the Order of the Liberator of Slaves "José Simeón Cañas", in the rank of Knight.
The works mentioned have been the product of the management and execution of projects that have had a positive impact on the quality of life of many Salvadoran communities.
The Minister of Foreign Affairs, Hugo Martinez, was in charge of delivering the recognition to who also serves as the President of the Salvadoran Committee "El Piche".
Rubio, who lived his childhood in the canton of El Piche, in the municipality of El Carmen, La Union, moved to Los Angeles, United States, at the age of 17 years with the hope of academic training at a higher level and thus have better opportunities to develop in life.